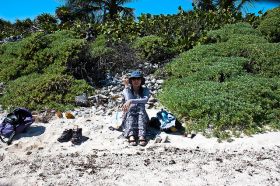 In Ambergris Caye, you have locals and you have people who come to work here and become locals. San Pedro (the main town of Ambergris Caye has become not only a tourist spot but also an opportunity for people from the mainland. People from the mainland come here to work to provide for their families. That's a big thing here in San Pedro that people are coming here to find jobs since tourism is a huge industry here.
About 40% of the people here are what you could consider transients. They are here from the mainland or other parts of Belize to work. Expats here are about 10 to 12% of the population. Ambergris Caye is also now becoming a retirement destination and not just a tourist spot. The rest would be locals who would have been here for generations. Most of them are involved in the tourism and hospitality industry.
We have a town council meeting every two months where locals and people from outside attend. We have accepted the fact that Ambergris Caye are a tourism-based island and we need to invest our time and encourage everything to work out well.
(An expat o
n the beach at Robles Point, Ambergris
Caye
, Belize, pictured.)
Posted May 26, 2015