As far as the history of Ambergris Caye, we go by what our grandfathers, our uncles, and aunts tell us. According to them, there were four families that came here and settled because of the fish and the reef. At that time, they didn't have the marine reserve so they used to fish around the reef. So the fishermen came and settled here. It wasn't until Belize gained its independence that people started building families here and saw Ambergris Caye more as a home. There were some Mexicans that settled here as well.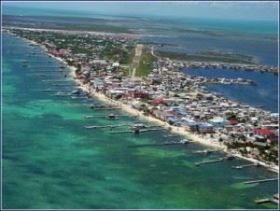 If you are going to trace back our family trees, they are all related. That is how small the island is. Almost all of us are related. Some San Pedranos (the local name of the people who are from San Pedro, the main town of Ambergris Caye) went to the mainland and got their wives and some people came here and settled. People started coming here to build hotels then people started coming here for the diving. That's how we became known, I guess. We don't really study about this in school. Instead, we go by the stories that our grandparents tell us, so it may not be 100% historically accurate.
Ambergris Caye was inhabited by some people before the fishermen came, but the history that we hear doesn't really mention that. They say there was one family who came first. Then they had friends and these friends came and they settled here, too. For example, my mom is not from here. She is from Corozal and her grandmother and her sister were traders so what they would do is go and get goods from Mexico and then bring them over to Ambergris Caye. They went to the Mexican side and buy pots, pans, and silverware because they couldn't get these goods here.
I know people who didn't even attend high school here here because there wasn't even a primary school, preschool, or a high school. There was nothing here so they had to go to Belize City. Some people lived in Belize City until Ambergris Caye started to become a village. That was about 60 years ago. So before 60 years ago, there was almost nobody in Ambergris Caye.
There is a book that a local wrote about 25 years ago. It's by Anghel Nunez. He was one of the first graduates of San Pedro High and he was one of the first people who did high school here. He was also the principal of the school here 6 years ago.
(The picture is of Ambergris Caye as viewed from the air.)
Posted May 28, 2015