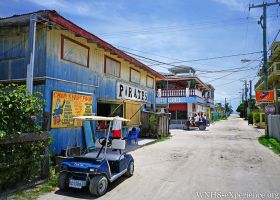 It's a little hard to track the history of Ambergris Caye by itself. We take the history of the country because Belize is a small country.
Belize was initially founded by British pirates around the 1760s when the British Navy was hanging all the pirates in the Caribbean. Some who gave up pirating settled at the mouth of the Belize River and created a city, which is now a city in Belize. They changed from pirating into being hardwood harvesters. They were mahogany harvesters.
When the Garifunas or the slaves from the Caribbean were freed, they sailed into Belize and they became citizens of Belize or what would become Belize.
We also have the Maya culture here, so for the last 150 years or more, we have a mix of Maya, Garifuna, and people from the Caste Wars in Mexico, who came here around the late 1790s. A lot of Mexicans fled from the Caste Wars just before the 1800s and came down into Belize. That is where we got the Spanish-speaking people. All of Belize has been a mix of people from someplace else except for the Maya, who were here first.
We have beautiful Mayan ruins here. We have Mayan cities here that pre-date the Roman Empire, and they were massive. Belize became a country officially in 1981 so it is still fairly new.
(Pirates, an eatery on Caye Caulker, Belize, pictured.)
Posted September 24, 2015