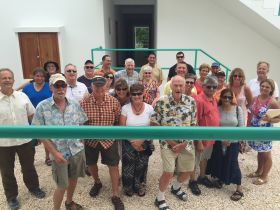 The dress code in Ambergris Caye is "island attire." That would be shorts, t-shirts, and you can go barefoot if you like. Here in Ambergris Caye, it's not really a big deal if you are half naked on the streets because everybody wears a swimsuit.
There are also opportunities to dress up, especially during community events. Practically, when we hit summer, that's when we have more events. In June we celebrate Dia de San Pedro, which is a big deal. In July, we have Lobsterfest, which is when lobster season opens here. In August, we have something called Costa Maya, which is an international festival where people from other countries come. In September, we celebrate independence and everything is very Belize-centric. We have parades and that's when people and tourists come here. People dress differently for these types of events. Women wear nice dresses, some heels, or flats. It doesn't need to be too dressy but it's "islandish". It's like a formal island attire. No jackets. You see lots of shirts with flowers printed on them. Khakis are also very common.
The dress code here in Ambergris Caye is not like people would be taking pictures of you and judging you by the way you wear clothes. Here in San Pedro we don't judge and we are open to everything. I think that is one of our main characteristics. Everybody here is open-minded and friendly. If you are walking down the street and you're lost, you can approach a local and they will help you.
Posted May 19, 2015