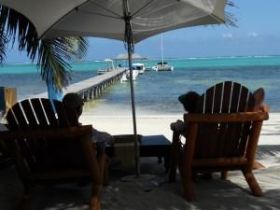 There are a lot of people who have come here to Ambergris Caye from the States. I met a person who lived in New York all their life and the first time she came here, she didn't like it. She said, "Oh my God, what am I going to do all day? Where is work, what do I do? How do I do it?" Most of the questions that people ask when they first come here is "What is there to do?" "How many people live here?" "Why are people here so laidback?" "Where's the nightlife?". When they get used to all of it, they say, "I don't want to go back to the States."
An expat recently told me that he doesn't want to live in the States. He said in the States, you wake up, drink a cup of coffee, get ready for work, go to a subway, and repeat the same pattern. It's always busy, everything is time constrained and you're always late. Here, you're always early for everything, because we are on Belize Time. You'll be on time for what you're used to, and Belizeans will be late, so you'll actually be early.
We are pretty laidback. At first the people moving here are hesitant. There are people who want to retire in Belize and they get a vacation home or a vacation rental for some months and see how it turns out. Most people fall in love with it.
In order to give you a contrast of how a native Belizean looks at other place, I went to London recently and saw that bananas were very expensive. Here, I could get five bananas for $1 Belize (50 US cents). When you come here, if you want fresh fruit, you'll have it. If you want fresh fish, you'll have it. If you want any type of meat, we have it here, too.
In Ambergris Caye, you will see the mayor every day. The mayor is my neighbor. There is really nothing to worry about. The authorities here are just like anybody else who is from here. There is nobody who you cannot reach, as opposed to how it is in the States. The government system in the US is more complex. Here, my representative is my half cousin, and you could see him every day. The people in the government and other places of influence or authority really stop and talk to you and make you feel welcome. You have a relationship going on and that goes for anybody who comes to live in Belize. You can see the mayor today. You can talk to them in the middle of the street and nobody will tell you that you can't do that. It's pretty laid back. You could pretty much do anything that you like.
Posted May 19, 2015