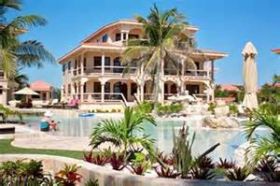 On the northern part of Ambergris Caye, it's more touristic because they have a lot of hotels there and there are lots of vacation homes. They are building a street now, which is awesome because the road was horrible. They are now building concrete streets, which are awesome for us because to go to the tip of the island takes us about 4 hours from San Pedro. It also depends on what mode of transportation you use. If you use a golf cart, that's not slow, but not fast, either.
Most of the people who own properties up north are locals and there are some investors. For every block that you go, you might find one or two hotels. Starting from the bridge, there are a lot of vacation homes. We have a movie theater up north as well. They have restaurants and more hotels over there. The last hotel that you are going to see before you reach the tip of the island is Tranquility Bay. It takes an hour and a half to get there via water taxi from San Pedro.
San Pedro is in the southern part of the island and is the main town on the island. What I just described is how it is from when you cross the bridge to the north, to the end of the island. Once you reach a certain point, you are not going to see anything. There is just nothing. At the tip of the island, you could literally step on the beach and 2 minutes off the beach, you will see the reef. That's how close we are to the reef.
San Pedro is in the middle of everything. We call it the "town" because it has everything; local restaurants, gift shops, transportation, etc., and most of the people on the island of Ambergris Caye live in San Pedro.
Most of the people who live I San Pedro are locals. About 70% of the population here are locals. Then after some point, you are going to see hotels, and dive shops. This is a small island so you could literally walk along three streets, which are the front street, the middle street, and the back street. The front street faces the beach and the back street faces the lagoon. The front street has lots of good shops, a few homes, and the homes are mostly San Pedrano homes, owned by 2nd or 3rd generation San Pedranos who live there.
On the middle street, you are going to see some groceries, homes, and some restaurants. On the back street, you are going to see a lot of homes. Going to the south part of San Pedro, you are going to see houses, gas stations, and a lot of houses of locals. You will notice that most foreigners live up north rather than in town. Those who live in to the south of the town are mostly locals.
(Coco Beach Resort in Ambergris Caye, Belize is on north side of the island, pictured.)
Posted May 17, 2015