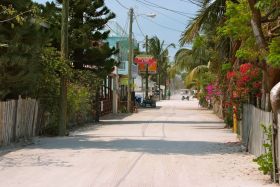 Ambergris Caye is a bit if a unique island because I would think it is the wealthiest and largest of all the 200 cayes. Ambergris Caye would offer the largest of the middle class in Belize as far as Belizean people. It takes a lot to live here, but you also have the better jobs and better-paying jobs here.
Ambergris Caye has the most consistent tourism in Belize. The local people who live on the island tend to be a lot wealthier than their mainland counterparts, especially those down south.
For your average expat who lives on Ambergris Caye, certainly the same would be true. You have to have a lot more disposable income to live here on Ambergris Caye compared to Caye Caulker (pictured) or any other mainland locations. As a result, Ambergris Caye has a much better variety of restaurants and variety of access to teas and bread. We are getting First World products here because there is money to buy it. I think that this region in particular is kind of an anomaly, but I think it offers the best standard of living in Belize.
Posted December 02, 2014