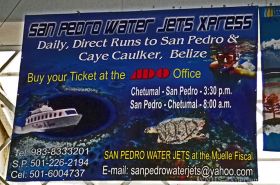 Yes, there are English-speaking doctors in Ambergris Caye, since all San Pedranos (the local name for people who live in San Pedro, the main town on Ambergris Caye), and everybody else in Belize speaks English. English is our first language. Most people in Belize have two languages, which are English and Spanish, with English being the first language.
My mom understands English and she could speak some English, but I speak to her in Spanish and English. Most people here understand both languages. Some people also understand other languages like Garifuna, Creole, Maya, etc. It's pretty awesome living here.
The Garifuna and the Mayans are natives here and people in Belize really take the languages and culture of Belize very seriously.
(Sign in San Pedro, Ambergris Caye, Belize for jet ski rental in the common language of English, pictured.)
Posted May 13, 2015