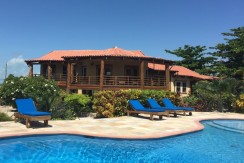 Yes, Ambergris Caye is safe. My mother-in-law lives here as well and she has lived on her own for over two years now and she has never had any security issues. As with any city or town, if you go looking for trouble here in Ambergris Caye, you can find it, but if keep your nose clean, you would feel very safe here. I personally feel very secure having my family here and I have not safety concerns.
I live on a ground floor condo on the south side of the island of Ambergris Caye and we have a neighborhood patrol that is essentially a resident funded police force that patrols our end of the island and we have very minimal crime here. We don't have burglar bars on our windows. We don't have security systems or alarms. We just lock our doors. There are certain areas in Ambergris Caye that are a bit desolate or with less traffic or with a lack of a good neighborhood watch in place so having burglar bars or having an onsite security guard is not the worst idea in the world either.
The crime that happens here is similar to the crimes that happen in the US but it tends to happen more on a magnifying glass here because everyone tends to hear about crimes a lot quicker here. But generally, most crimes that occur here are crimes of opportunity as opposed to pre-meditated, pre-planned crimes. So if you don't present an opportunity, the chances for a crime to happen to you is less likely. Leaving your cellphone out and having it stolen is the more typical type of crime that we see here as opposed to brazen attacks or other brazen types of crimes.
I actually feel safer here in Ambergris Caye than where I was in Toronto. I think a factor is that there are less people here but the police force here is very visible and as long as you don't go into neighborhoods that you typically wouldn't go into even if you lived in a different city and go looking for trouble, you are going to be fine.
(Villa in Ambergris Caye, Belize, pictured.)
Posted November 14, 2015