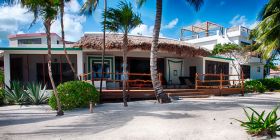 The cost to get a housekeeper or a maid in Ambergris Caye depends on how frequently you would like to have the service. If you are looking to have someone work for you weekly, a fairly average price is about US $25 for three hours' worth of work.
Three hours is the average amount of time spent for cleaning but it could also depend on the size of the home and the amount of work that you will delegate to the housekeeper. If you are getting the housekeeper to work for you more frequently, you can negotiate an even more cost effective way of having your house taken care of on a weekly or a monthly basis. Generally, if you would like your house taken care of more frequently, you could pay around $12.50 on a per cleaning basis and the housekeeper will come to you house at the days when you want them to come and do the cleaning. You could even arrange for two people to do the cleaning for you for the same amount.
Generally speaking if someone has a villa, the owners build a caretaker cottage and hire a housekeeper who will live on the property full time or they will have someone check in on the property on a very frequent basis. There are also a certain number of companies that handle those types of services for homeowners. Typically, the housekeeper lives in the villa for free and that is a tradeoff. So the housekeepers will not make a lot of money but they do get a free place to live. They do house cleaning, grounds cleaning, security, etc. Their compensation depends on the arrangement that they agree with the homeowner but generally, they live in the villa for free and if the owner wants to give them something in addition to that, it can happen but otherwise, it is not expected.
(Villa in a resort in Ambergris Caye, Belize, pictured.)
Posted November 15, 2015