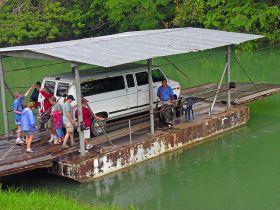 There is a lot of debate about the cooperation and disclosure between Belizean banks and US banks. I would caution people who think they can hide assets from the US in the Belizean bank, that's probably no longer the case. The Belizean banks are under a lot of pressure to divulge expats' account information back to the States to be compliant.
I find that the tort laws in Belize seem to be a lot more conservative than they are in the States. There's very little litigation or negligence and liability as far as protecting one's assets. Obviously, you've always got some liability exposure with motor vehicles, but very few people maintain liability insurance on premises and operations for their dwellings and small businesses in Belize as we do here in the States, so your cost of insurance there is significantly lower.
And in Belize, property insurance is ala carte- you build your coverage based on the perils that you want to insure against. You can buy fire only, wind only, theft only, or if you want to build a package, you just piggyback all of those perils on top of each other. For the most part, everyone who I've spoken with who's relocating to Belize simply overbuilds and self-insures as far as their exposure on the property side is concerned. For the liability side, outside of the automobiles, unless you're taking some capital to Belize to start a small business, there's just not much concern for it on the liability side.
I believe there are investments in land in Belize. It beats the hell out throwing darts at the stock market!
My wife and I enjoy travelling to the Florida Gulf- from Apalachicola all the way around down as far south as Indian Rocks Beach. As we visit these little communities, we like to go to the local museum. When we go to the museums in the gulf coastal area of Florida, specifically on the Gulf Coast more than the Atlantic coast, we see back in the 20's and 30's, hand crank ferries, little or no electricity, and little or no development. That's what coastal Belize looks like right now; coastal Belize looks like the Florida Gulf in the 20's and the 30's. So as Belize continues to gain popularity and as it continues to develop, fortunes are going to be made in Coastal Belize just like fortunes have been made all along the Florida Gulf.
(Ferry crossing, Belize, pictured.)
Posted December 09, 2016