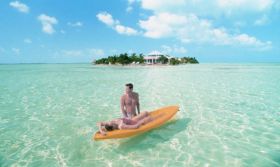 You can be a permanent resident of Belize without having to go for Belizean citizenship.
If you come here with residency in mind get somebody to help you and immediately apply for a work permit even if you don't plan to get a job. With a work permit, you can get your residency much easier. You will need a work permit even if you are going to open a business.
In order to qualify for the qualified retirement program, you have to prove that you make US $2,000 a month and that you're going to bring that income into this country. Also, if you are coming in under the QRP, you cannot work or donate your time. One thing I recommend is that if a couple is coming into Belize and one of them wants to have a business, don't both come in under the QRP. One should come in as a tourist and apply for residency and the other partner comes in under the QRP. What that does for you is that one of you can have a business or work (once you have a work permit) while still qualifying for the QRP benefits.
(Cayo Espanto, Belize, pictured.)
Posted August 10, 2016