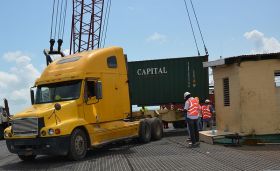 How much of your things you should move to Belize depends on what things you think you cannot live without. In some cases, people are really meticulous about what type of appliances they have. They are very specific about the brands, models, etc. Generally, you can get anything and everything in Belize, but there are some people who have things that they really like a lot, so those are the things that they really want to move into Belize. We have people who move appliances, furniture, power tools, linens, or dishes. You can get all those things here in Belize, too, but it depends on the person to determine how much they want to move and if a specific thing is so sentimental to them that they really want to move it to Belize, then of course they can ship it down.
There are things, for example, some woods, that you will pay a higher tariff on if you bring it in from outside the country. The reason for that that is that Belize is trying to tell people that we already have a lot of wood. So if you import wood into Belize, the tariff is higher and that kind of discourages people from importing wood. If you are looking for furniture, there is a lot of cool stuff and high quality stuff here in Belize. There are no fake or compressed boards here. They are all genuine, high quality woods. We have a lot of exotic woods aside from mahogany. People have learned that if they cannot find what they want in the stores, they can have it made by the local skilled carpenters.
You can also buy appliances here in Belize. It may cost more to buy appliances here than it would in the US. In some cases, expats do the math and find that it's cheaper to buy appliances in the US and get them shipped to Belize than to buy the appliances here. And there are times when certain people are not willing to sacrifice certain items. If they have something that they cannot do without, then they will have it shipped to Belize.
Regarding import duties, there are certain permits that you can get in order to get an exemption. In some cases, if you are with an NGO or if you are a humanitarian aide, if you are helping a school or orphanage, then you can get an exemption. But generally speaking, everyone who moves to Belize has to pay import duty. The exception other than what I mentioned is through a program called the QRP (Qualified Retirement Program). People who enroll in that program do get all their things duty free, including furniture, household effects, car, boat, and a plane. If you qualify for the QRP, there may be some period of time during which you can import your items duty free, but please check to make certain.
Posted April 02, 2015