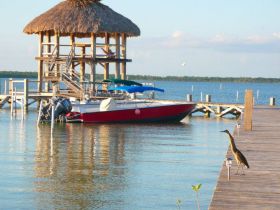 Here's my answer for how much of your stuff you should take with you when you move to Belize: none. You do not have to bring a lot of things to Belize. You just need clothes. All the stuff that you have in the world, you don't need here in Belize.
People in the US save things. They have a garage full of tools, etc. but all that stuff would actually rust out and go bad here. So it is better to not bring any of that here in Belize and just start over.
When I moved to Belize, I sold all of my things and just brought with me my clothes and a few things. I never need anything here.
(Dock at Orchid Bay, Belize, pictured.)
Posted March 20, 2017