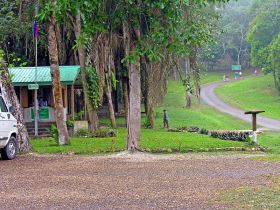 Let's say you are moving to Belize in the next month. When you arrive at the airport, you will get a 30-day visa stamp on your passport. If you want to stay beyond that period of time or if you have decided to move to Belize permanently, you are going to have your monthly visa stamped at the immigration office. There are several immigration offices. There is one in Belmopan, northern, southern, eastern, and western Belize. You are going to get your monthly stamp each month for 12 months. After that 12-month period, you can apply for residency. For the first 6 months that you are in Belize, the cost you will pay is US $25 for the stamp. The remaining 6 months costs $50 per month. During the 12-month period, you are only allowed to leave Belize for 14 days. The government imposed that rule because they want to be sure that you are actually living in Belize most of your time and that is the reason why you are applying for a residency.
After you have your residency, you are then allowed to come and go to Belize, since you are a resident. Being a resident allows you to open a bank account, it is easier to get utility accounts under your name, you could get a driver's license, etc.
On the other hand, citizenship is when you are officially a Belizean, per se. You can apply for citizenship after you have been in Belize for four years. That process requires a vetting process. It requires you to get character references from Belizeans you know. You need to provide a permanent address and a utility bill. You also need to undergo a physical examination and also get a HIV and a TB test done. You will then be called in for an interview.
There is not much of a difference between being a resident and a citizen in Belize. The only noticeable difference is that when you are a citizen, you are considered a Belizean and you will get a Belizean passport.
Some expats who I've met are happy just being a resident of Belize because being a resident of the country makes things easier for you. The primary advantage of being a resident is that it allows you to get a bank account. I just spoke with a gentleman from Florida who has been here for 3 years and has his residency. He told me that he wants to get a citizenship and he's excited. He wants to stay here and own property here in Belize. (You don't have to be a citizen to own property in Belize.) I guess he just really wants it, but it is not really necessary because it doesn't provide a lot more benefits than being are resident.
(
Xunantunich
, Maya archeological site in western Belize, pictured.)
Posted April 04, 2015