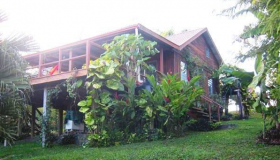 If you are buying a home in Belize, I really suggest for you to check everything and do your homework. Find out as much information as you can possibly get. If all that still doesn't suffice, I suggest that you come down here to Belize and live here for several months before you actually buy.
I have seen people who maybe thought that they have the property that they wanted and then they find out after a year or two that it is not what they really thought. It is not like they do not like Belize as a whole, but it is just that they bought at the wrong spot. Some people move to Corozal and later on find out that that is not where they are happy. Then they come to San Ignacio and like the place and decide to sell the place they bought in Corozal.
I tell people to rent before you buy but also move around the country. Try different places and experience more than one location in Belize.
(House with a balcony in San Ignacio, Belize, pictured.)
Posted April 18, 2015