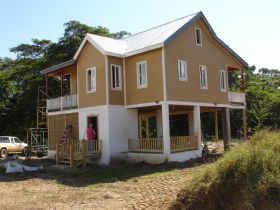 The quality and style of the homes in Belize depends on where you go. The houses that we're building are not much different at all than what you would expect in the US or Canada.
However, houses built by hand by locals on meager budgets tend to be very sparse. When we look at houses in the US that were built prior to the age of air conditioning in the southern climates, which would be more similar to Belize, we see that those are fairly sparse Florida-style houses. We see the similar thing here, but the timeframe is different. A lot of people say that Belize is like how Florida was 50 years ago. You can draw that comparison, and that is fairly accurate.
The style may be slightly different since Belize is in the tropics and we like outdoor spaces. When you're at 50 degrees north of the equator up in Canada, you're dealing with an obviously different climate than you are at 17 degrees north of the equator and the style, materials and methods of construction should be appropriate for the climate.
There are certain items we have here that are really nice and, for most people, would be prohibitively expensive in the U.S. or Canada. For example, we have these beautiful woods here in Belize that are used for construction and furniture making. The architectural accents made with local hardwoods are gorgeous. In Belize you can have a hand-carved hardwood front door for well under a thousand dollars, the same door would cost $5,000 to $10,000 in the US.
The houses that we are building here in Carmelita Gardens have beautiful architectural features, modern appliances and are all completely off-grid. Off-grid living is becoming the "new normal" and it is much easier to do in Belize than almost anywhere else in the world, especially more northern climes. We have abundant sunshine, fertile soil, and the ideal amount of rain. We are building modern US standard homes all powered by solar equipment and supplied with rainwater harvesting, storage, and filtration systems. Carmelita Gardens coined the phrase "Independent Together" because it reflects a Belizean cultural attitude and is very appropriate when considering homes and community.
In Belize people are proudly "Independent Together" and housing should and does reflect that culture.
(Pictured: House nearing completion in Carmelita Gardens, Belize.)
Posted March 31, 2016