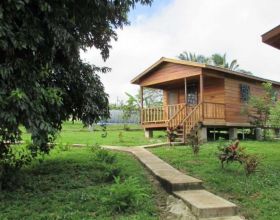 The cost to rent a home in Belize depends on the size of the home, the location, and what is included in the rent. Sometimes utilities are included in the rent and sometimes the units are furnished. In our area, in San Ignacio, in the Cayo District, home rentals cost between US $600 to $1,000 per month. These are homes that range from 1,000 to 1,300 square feet and may have two bedrooms, and two bathrooms. Utilities are usually separate from the rental fee. The yard maintenance is also separate.
If you rent a 1,000 to 1,300 square foot house in Corozal, it would probably cost the same but if you rent the same sized house in the cayes, then it will cost more. It could start at $1,000, per month if you rent a 1,000 to 1,300 square feet house in the cayes. If you rent that same house in Placencia, it would probably be around $800 to $1,200.
But the trend in Belize now is that people tend to rent apartments more than houses, so apartments are cheaper.
(Cabana for rent in San Ignacio, Belize, pictured.)
Posted April 07, 2015