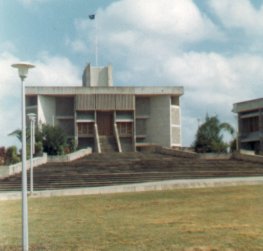 Within Belize, acquiring permits and having inspections are done for construction done in certain places such as Belmopan, Belize City, and the cayes. Those are areas where you would need to get a building permit and there are some restrictions and guidelines that need to be followed.
In any of these places, you have to have a plan that was drawn by an architect or an engineer. Then you need to turn it in with the building authority, and then they will approve it and give you a permit. There are small fees that you need to pay as well. Periodically, the inspectors will come out and check that everything is being built according to the permits that you have. On the cayes, there are certain areas where you could only build up to 3-stories high and there are some areas where you can build up to 4-stories high.
In Belize City and Belmopan, since there are sewer lines, you are not allowed to go as close to your fence line, but in San Ignacio, there are no sewer lines. You don't have to worry about that because there is so much space and everybody has large lots and space is is not a concern.
Here in San Ignacio, they still do not require you to have a architect or an engineer draw a plan. What they do right now is if you have a rough plan that was made by yourself, that is fine. You will pay a small fee, and that is it. It's basically a joke. They just want some money and then let you build whatever you want. They are not going to check on the construction or call you.
Being Belizeans, there are lots of things in our rule book that we, ourselves, are not aware of. Since there are not a lot of resources to enforce these laws, we may have built structures in the past that do not follow the law, but because we do not know the laws and there is nobody to enforce the law, it was just done and it is history.
In some cases, the people who come to Belize from Europe, Canada, or the US may have experience in construction and others don't. What you do is probably based on your comfort level or your expertise. If you feel that you can just hire a general contractor, then you could do that and supervise their work. If you feel that you actually need to go a step further and have an architect draft your plan and give it to a general contractor and make sure he can read the plans, and you would still supervise to make sure everything is being done according to your plan, I would recommend that you be here in Belize while your house is being built. Personally, I would be there while my house is being built no matter where in the world I am building my house.
( The Parliament House in Belmopan, Belize, pictured 1975.)
Posted April 13, 2015