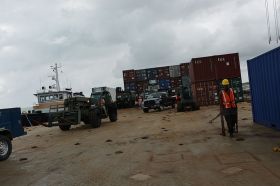 The cost to build a house in Belize depends on what materials will be used and where the house will be built. If you build a house on the islands, it cost considerably more compared to building a house inland. If you are building a house made of wood inland, for example, in the Cayo District or in Corozal, it would cost around US $80 to $90 per square foot to build. The cost to build using concrete would be around $130 to $150 per square foot. It might not be up to American standards, but it will be intermediate. It would not have granite countertops but it would have nice and decent fixtures. For sink faucets, for example, it would have Moen or Delta. (In Belize, a Moen is cheaper than a Delta. Delta is the best brand you can get in Belize.) In the intermediate home, they will include a Moen, which is a very good brand and it lasts for a very long time, but still it is not a Delta.
Other things like that can be expected in Belize houses are items such as dimmers, a nice finish, ceramic tiles, etc. In intermediate homes, you could have ceramic tiles but in better homes you could have better ceramic tiles or even granite. If you are going to build that same kind of house in the cayes, then you mark it up by 30 to 40%. So, if you're looking at a house that is 1,000 square feet, you can build it for $130,000 on the mainland and $180,000 if you were to build it on the cayes. This is just to build the house, not including the land.
You have to buy the land separately. These figures are on the conservative side. I am not talking about lavish homes, for which the cost could be quite a bit more. It costs more to build a house on the cayes in Belize mainly because of the cost of transporting the materials over to the cayes. Everything from sand, gravel, cement, steel, re-bar, etc. needs to be transported to the islands. Everything that you would see on the cayes are there because they were brought there on a barge. And because fuel is expensive, it increases the price of building a house. Another thing to consider is if you want to build split units of air-conditioning instead of having centralized air-conditioning. The more fancy homes have central air-conditioning.
( A barge being unloaded in Belize, picture.)
Posted April 11, 2015