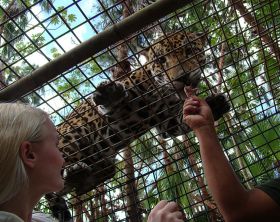 One of the few laws in Belize that are well enforced is the requirement to have auto insurance. There are police checkpoints throughout the country stopping motorists to verify that they have current vehicle insurance.
Most US policies are not valid south of the border, which includes Mexico, Central and South America.
Minimum liability insurance in Belize is inexpensive and can be purchased from insurance offices at the borders or in the towns. A short one week visitor's policy is just BZ $29 (US $14.50). A popular minimum coverage policy costs BZ $100 (US $50) per quarter.
Comprehensive insurance is available if the vehicle is less than seven years old. Kelly Blue Book values are used and applicable import duty is figured in.

(A jaguar in the Belize Zoo, pictured.)
Posted March 05, 2015