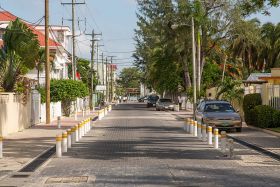 At the moment, Belize is undergoing various infrastructure work, road works being the most prominent. Even so, depending on where you want to live, cars with lower ground clearance aren't recommended. You can use a vehicle without 4x4 with ease within city limits and on highways.
We'd most definitely recommend a 4 x 4 if you plan to travel the country and explore. Many of the best Belize off-road adventures might require a 4 x 4 and you don't want to miss them!
At the Cayes (the islands) and Placencia, it's very popular to have golf carts instead of traditional modes of transportation. Some of their streets have cobblestones, while others are unpaved and sandy.
(Cobblestone street outside of the Radisson Hotel, Belize City, Belize, pictured.)
Posted July 28, 2015