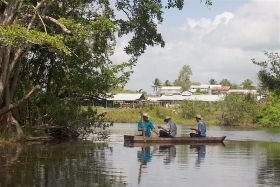 You can absolutely buy beautiful furniture in Belize. You can buy hardwood furniture, hand crafted furniture here. The Mennonite community(pictured) is very prominent in furniture building and you can buy really stunning pieces here locally, made of local hardwoods. The local hardwoods are just perfect for this kind of environment, which is high salt air, high humidity, etc. It is also perfect for the environment because they are made from local materials.

You have to be careful with the furniture you bring in from your home country if you are moving to Belize, unless your furniture is made of stainless steel. If you have furniture made from stainless steel, you are safe from the salty environment, but if you have things made from aluminum you are going to have high rust issues. Aluminum will deteriorate a lot faster in high salty environment and high humidity. The environment is pretty tough on electronics in general. Many people do not get years out of a laptop because of the power surges and high salt content in the air. In Belize you really need to have really good surge protectors for your electronics.

I'm writing this in Nicaragua right now, where the humidity is so much less than in Belize. That is because Belize has that shallow basin of water and the intense sun makes evaporation so much quicker. The shallow plus the intensity equals high salt content in the air. It is not nearly the same here. I am on the Pacific coast on the west side of Nicaragua, where I actually feel cool in the air compared to Belize where you never feel cool crisp in the air. In Belize it is hot wet.
Posted December 02, 2014