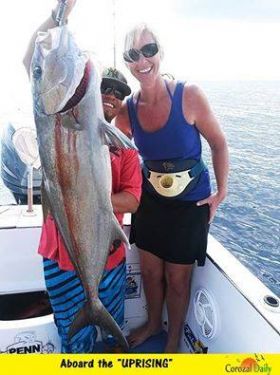 In Belize, you have all organic fruits and vegetables.
We can find almost everything that we need. You do have to change your recipes a little bit here based on being at sea level and other things such as humidity.
There is a lot of poultry here. There's a huge Mennonite community and they're the ones that supply the eggs, the chickens, and the cheese to the Belizeans. You can also go to the farmer's market, where you can buy most of your items.
We do have our meat available for purchase from local butchers. The beef I'm not going to say is like in the States. You can find beef like in the US, but mainly in the Cayo area (which is the western part of Belize) and you'll pay a higher price for that. There's a huge farm there, and I think they brought the cattle in from Texas, so you can get good beef from them.
Mainly we do chicken, as opposed to beef. We have a lot of seafood because there's a lot of fishing villages here throughout Belize. You can get lobster for relatively low price of maybe BZ $20 (US $10) for one big nice lobster. You can get shrimp, and a lot of seafood.
In Belize, we don't have the big supermarket chains like Albertson's, Ralph's, etc., that we have in California. We have Mom and Pop's stores here. A lot of them are owned by the Chinese because Taiwan is the sister city of Belize and so there are a lot of Chinese that are here.
Everything's fresh—no pesticides that I know of. It's totally different. Your body gets adjusted to eating completely different from the States and to here in Belize. We don't eat a lot of canned foods.
For items such as canned goods and items like soaps, we pay probably the same price as in the States. The produce is a lot less than in Belize than in the States. For example, I can buy a watermelon at BZ $2 (US $1). I can buy a pumpkin for BZ $1 (US 50 cents). We buy beautiful potatoes here. I can get 6 potatoes for BZ $1 (US 50 cents). So it's very inexpensive. You can eat very well here. If you were to get the natural organic, brown eggs in the States, it would cost you like maybe $6 for a dozen. We get those here in Belize, because they're of course they're from chickens direct, from the Mennonite community for BZ $6 (US $3) for a carton of 20 eggs.
In the States, we would spend about $200 a week for two people for food, and here in Belize we spend maybe $200 for the entire month.
(Huge fish caught from the Uprising Fishing tour boat off the waters of San Pedro, Ambergris Caye, Belize,pictured.)
Posted October 28, 2015