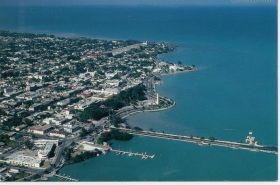 Shopping in Belize for basic food commodities is pretty straightforward, available, and inexpensive. However, there are challenges. "Luxury" food items like pre-prepared meals or frozen pizzas, etc., stuff you take for granted in the States or Canada, are non-existent or very expensive. Meals take planning. Sometimes shops will be out of a particular brand of mayo, cat food, etc. There is a certain "hoarder" mentality among ex-pats. You see an item that's been out of stock for a while, so you load up. You are part of the problem, but you just can't help it!
Belize, being a small market with basically two points of entry for imported food goods (Mexican border or shipping port in Belize City), has it's challenges in even inventory management. Get used to it. There also seasonality to local produce. Some items are only available seasonally, such as certain kinds of lettuce, avocados, etc.
One advantage I've found in living in Corozal is the ability to shop in Mexico, which mitigates some of the issues. Be forewarned though, there are prohibited items and you will pay duty on any purchases that exceed about $75 USD brought in from Mexico. If you live in northern Belize, you will learn this. But, duty or not, being able to walk into an auto parts store in Chetumal and get the part you need (Autozone, etc.) instead of having to order it, is a big advantage. Meats have improved a lot over the last several years. Beef especially, has improved with producers like Running W and Rhineland producing some much needed products, especially steaks.
(Arial view of Chetumal, Mexico, north of Belize, pictured.)
Posted April 14, 2015