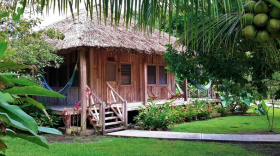 Eco-tourism in Belize is an industry that is picking up. We're surrounded by nature, so it only makes sense that we have tourism that focuses around the ecology. It's definitely something that's happening more and more and even the bigger resorts are gearing towards offering more eco-friendly tours.
The largest conservation area that we manage is the Rio Bravo. We offer a lot of tours that are sustainable to the ecology of the area and we ensure that we educate all guests who visit this area. Our tour is not just a regular tour to have a good time. It's sharing knowledge and promoting the ecology of the area. For example, if we take you on our nature hike, we would encourage you to plant a tree. With our yellow-headed parrot program, we take you to the area where we show you the nesting sites of the baby parrots. So people who join our tours learn to adapt and to contribute to that area. Some people take it really seriously and take it to the next level but others just ensure that the equipment they use is eco-friendly and give towards the environment basically.
Belize is concerned with ecology. We're surrounded by nature, whether it's land or sea. Everything you do in Belize, you have to be outdoors, so it's definitely important to safeguard the environment.
(Pictures is one of our cabins at Programme for Belize.)
Posted April 03, 2015