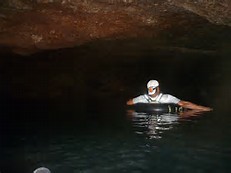 Traveling around Belize can be a bit of a challenge but it can be done. If you choose to go by bus, you will be restricted to the bus routes and schedules which don't really travel off the main roads. For the more adventuresome you can try hitch-hiking. Or more practically, rent a vehicle. Vehicle rentals aren't cheap here, but you do have the flexibility to come and go as you please and come and go where you please. Make sure, if you plan on going off the main roads, you rent a 4-wheel vehicle.
Now, once you have your mode of transportation figured out just get up and go. There aren't that many highways in Belize so you likely won't get too lost and if you do, just ask. Somebody will be willing to tell you where to go :-).
Additionally, you can go higher end, stay at one of the resorts and arrange your activity packages through them. Makes it easier but it does cost a bit more.
Once you determine your mode of transportation you can figure out what you want to do and where you want to do it. Belize is well-known for its activities from river tubing, to cave tubing, to ziplining, to cacao tours, to snorkeling, to deep sea diving to fishing or just lounging on the beach. Or if you know that all you want to do are water activities then a vehicle rental isn't absolutely necessary. Come and see what you can do. Nothing is carved in stone. If you didn't rent a car but find you want one, rent one.
Being flexible is the key. And understand the type of transport you will be depending on, where you can and can't go with it.
(C
ave tubing, Belize, pictured.)
Posted May 04, 2015