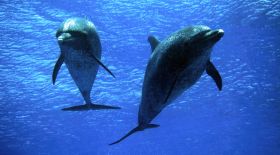 The best things to do in Belize depend on your interests. I am very sports oriented so for me, the best things to do in Belize would be to play some sports. You can do many water sports particularly here in Ambergris Caye, such as kayaking, fishing, diving, boating, stand up power boarding, sailing, jet skiing,
parasailing
. There are land activities, too, like zip lining, cave tubing, mountain biking, horseback riding, hiking, rappelling, and the list goes on. There is no shortage of sports activities here in Belize. It is sports-oriented place.

There are places you can go and work out. I am also a fan of yoga. There's a wellness component here in Belize now so people are coming down here and they are eating raw organic food, practicing yoga and meditation, not involving themselves in any worldly politics that is going on at the moment, and trying to stay away from the news.

However, some people are into the cultural significance of a place. Belize is the heart of the Mayan empire. Many people are very into the archeological and cultural side of what Belize has. There are so many ruins. In fact, they said that only 15% of the ruins have even been excavated in Belize. There is still so much under the earth that has yet to be looked at.

If going on these cultural trips is not really your thing, there is a fair bit of dining opportunity here in Belize. There are lots of foodies who come here looking to experience different local spices, local methods of cooking, and obviously the regional fruits that we don't get up north, etc.

There are several people who come to Belize to transact with financial services because Belize is an offshore banking center in an English speaking country, so there are many private banks, etc.
Posted December 02, 2014