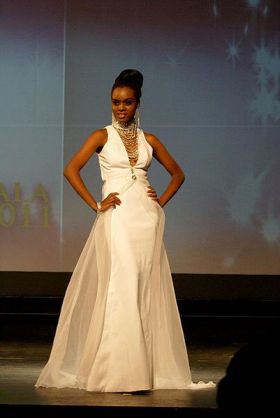 At the end of July and the beginning of August, in Belize we have the Costa Maya Festival, which is a really huge and interesting regional festival. All the countries in Central America come together to share a tradition of modern dance, different particular performing artists, and food.
They also compete in this annual competition they call the "La Reyna De la Costa Maya"; the Queen of the Mayan Coast. Each country submits a contestant who competes for the title. The competition consists of a series of different skills. Then there is a performance and a bikini competition. It's a big draw to the island of Ambergris Caye.
They have a cultural costume competition and they show costumes from the Panamanian traditional costume to the Belizean traditional costume ( Miss Guatemala 2011, pictured). They come out on stage with these traditional costumes. Not only are the costumes incredibly heavy, but they are also incredibly difficult to manage because they usually stand 10 feet or so in the air, the contestants' shoulders have weighted things and there are feathers coming out of the costumes. It is really something to see. Then everybody votes, the winner is announced, and it is a big deal.
Last year at Costa Maya, which we had here on Ambergris Caye, Belize won. So Belize is going into this year's Costa Maya festival as the reigning champion. It will be Interesting to see what happens.
Posted December 15, 2014