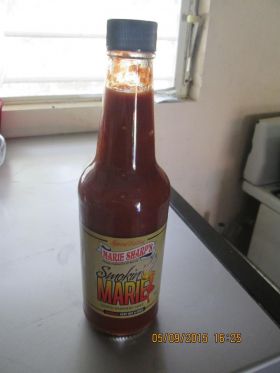 I used to cook a lot but now that I am so busy, I tend to just by my food.
The traditional foods of Belize are rice and beans, stew chicken, coleslaw, and fried plantains. Belizeans eat this almost every day. It only varies when they make stew beef or some other type of meat instead of chicken but it is served with the same coleslaw and fried plantains.
It is very rare that you would find somebody who could make Belizean food that would please me but it could be very tasty. I like spicy food such as Asian or Indian cuisine.
(Jestine Dawson's favorite hot sauce from Belize, Marie Sharp's, pictured.)
Posted January 30, 2016