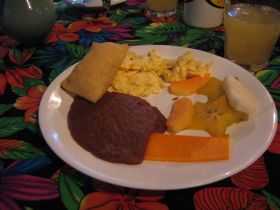 There are many traditional foods in Belize. Their basic staple food is stewed chicken with rice and beans. There are also a number of different kinds of interesting dishes like
hudut
, which is a whole fish poached in coconut milk. They have
chirmole
, which is very good soup.

Belize has a lot of interesting delicacies, too, like gibnut, which is like a big guinea pig that runs around in the forest in the mainland. They served in back in the 1980s as the Royal Dish to the queen when she came here. And ever since, from my understanding, it has been called the "Royal Rat."

Locally, there is a lot of seafood. They eat a lot of fish; snapper, conch, lobster, and shrimp dishes. Traditional food is also very good food because it is the freshest catch. Traditional food is the day-to-day food in Belize. They do not only have food like tamales or tacos. They have that too, but most people eat stew chicken, stew beef, rice and beans or coleslaw. They eat lots of tortillas, but that is regional.

And then because of where you are, and this is true in any place where people don't waste anything, they eat cow foot, chicken feet, pigs tail; nothing is wasted. There's a lot of Chinese food here, too.
Posted December 02, 2014