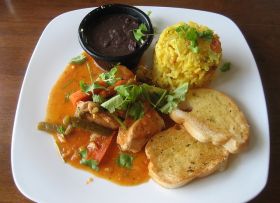 This little jewel of the Caribbean isn't that small when it comes to cuisine. Belize's menu is a wonderful combination of Mexican, American, African, Mayan, Spanish, Indian, Chinese and Creole dishes.
"Belizean Rice and Beans" is the signature plate of the country. Fresh coconut milk is the secret to the great taste of this traditional dish. Rice and beans is accompanied with stewed chicken, potato salad and fried plantains.
But this is not all that this country has to offer. Pizza, salads, fresh bread, soups and much much more. Fresh vegetables and fruits make it easy for you to make anything and everything you crave, from main dishes to deserts and tasty natural drinks. There is a lot for you to try and explore when it comes to Belize.
(Stewed chicken, rice and beans, pictured.)
Posted May 26, 2015