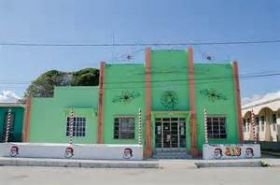 Belize gets its electric supply from Mexico. The entire country of Belize has electricity. We get our electric bills every month and we pay.
Blackouts occur sometimes but it doesn't happen a lot. There would be a blackout maybe once in every 3 months and it only goes for an hour at the most. We get notices via TV or radio that there will be a blackout so everybody can prepare their candles and rechargeable flashlights.
We still have electricity even if there is a storm unless lightning damages something that affects the electricity, at which point, we can get a blackout or a brownout without notice. But that rarely happens.
(Townhall in Corozal, Belize, pictured.)
Posted December 15, 2015