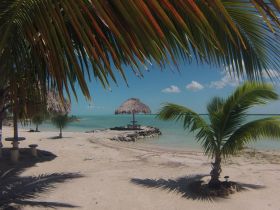 There are six districts in Belize.
Punta Gorda is down further south and gets a lot of rain. There are a few expats down there.
North of Punta Gorda is Stann Creek, where Placencia is located and that area tends to draw a lot of expats, which drives up the prices. Hopkins is another area down south that is becoming popular with the expats.
Ambergris Caye is the largest tourism area and there are a lot of expats living on the caye.
Then there are some expats on the west side over towards San Ignacio, which is the Cayo District.
Of course, there is a group of expats up here in the north, in Corozal. In Corozal, expats pretty much acclimate themselves to the areas of Consejo, Corozal Town, and Cerros Sands, where I am, and which is becoming more popular. Orchid Bay is just across the water from Cerros, but faces west and does not get the prevailing sea breeze.
Placencia is the southernmost area where there is a large group of expats. It's being developed more and more into large communities. They try to restrict the development, and there is the attitude of "we are here now and the world is complete." I think anybody can go anywhere they want. It is right on the coast and there are some inland areas where people get their boat in their backyard. Prices compared to the north are probably three times more expensive. Sanctuary Bay would be a good one to compare to Cerros Sands.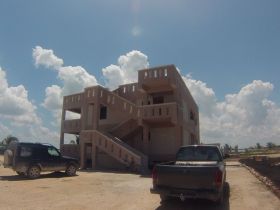 Hopkins is another area just north of Placencia that is being developed as well. Americans and Canadians are beginning to reside there. Hopkins is also right on the coast. There is lots of talk of some large-scale developments being built in Hopkins, but I don't know if they had the approvals to do it yet.
There has been a whole lot of discussion about an International Airport in the Placencia. Don't hold your breath..
In Belize, you have to be careful because people promise a whole lot and don't deliver. You have people talking about golf courses left and right, as well the that airport. Much of this stuff I don't ever imagine will get done because if you just look at the sheer economics of development, you cannot just put up eight golf courses. It is going to cost you $18 to $25 million per course to do it on a recognized international level. There is not a lot of population to support a lot of the things that some developers promise, anywhere in Belize. Its easy to figure when you look at the number of expats coming in that these are very futuristic endeavors.
Ambergris Caye is an island, which is about 22 miles long, and it's widest part is just over 3 miles wide. It is being developed heavily. It is kind of cut between the north and south of the island, by a bridge, which connects the two. The north part is the first area that really developed and they are really pushing the limits of development there. That is pretty crowded, quite frankly. There used to get by with just golf carts, bicycles, and your bare feet. But now, with people have SUVs and they are having a real issue with waste disposal. It gets dusty and dirty. I lived on Ambergris Caye and enjoyed the island ambiance. If you want to sit on a beach bar, that's fine. I just don't want to do that 24 hours a day, 7 days a week. You also have diving and fishing. They call it the drinking island with a diving problem!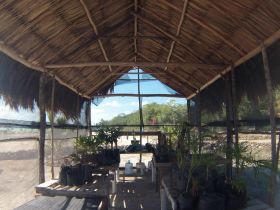 I like Caye Caulker, another Caye which is south of Ambergris Caye. It is a little more laid back than San Pedro (the main town on Ambergris Caye). There are no cars on Caye Caulker. You may have a golf cart to get you around. You also have bicycles and you walk because it's very small. It is very quaint. If you are going to travel to Belize, I would recommend you stay in Caye Caulker before you stay in Ambergris Caye, but that's my personal opinion.
I lived in San Ignacio for a while. I had a real estate office up there for a while as well. It's nice but a little different ambiance. It is kind of a mixture between Napa and Hawaii. It has hills, valleys, it is very pretty, very picturesque. I guess that's the word for that kind of thing for Belize. The only thing is that during the summer months of July, August, September, and October it is unbearably hot. You take a shower, you walk outside, and you are drenched. At night, it gets cool, which is okay and in the morning sometimes you will see the fog just like you would see over the valleys in Napa. It is a little different that way. I like the sea breeze by the shore, so Cayo did not work for me.
I wouldn't say that San Ignacio is up in the mountains because I don't think the elevation is more than 2,000 feet, but for Belize, it is the mountains. San Ignacio is in the west, inland, up by the Guatemalan border.
In my opinion, Corozal is more compelling. Down south of Belize, you get 180 inches of rain a year. If you go to Punta Gorda, it's even more. As you work your way up the country going north, the rain diminishes. It gets up to about 60 inches of rain up in Corozal, which is very much like Florida. We have a very temperate climate. Cerro Sands, where I live, faces east so we get the sea breeze. I do not have air conditioning in my house, I have some ceiling fans and I rarely have to turn them on. You can have air-conditioning if you want but even in Corozal town, I had air-conditioning which I never used. Some people are used to it or want it and of course that could be built into any house.
Corozal is on the northern part of Belize, right on the border of Mexico not too far from the Mexican town of Chetumal. Corozal is close to medical care also because it next to Chetumal, Mexico, which is a big city with good medical. Chetumal also has a Home Depot, Sam's club, and all the stores you can think of. You even have Applebee's, where the ribs aren't bad. Chetumal is the capital of Quintana Roo.
There is a little town before you get to Chetumal called Santa Elena but that is where the border is, the cross over. But you can get to Chetumal from Cerro Sands by boat. So for major medical emergencies, we will take people in by boat right over to the dock and they can have the ambulance waiting there.
It is easy to get back and forth over the border between Belize and Mexico if you're not a jerk. If you have a bad attitude as if to say, "Oh what are they looking into my bag for?" Or if you are bringing some stuff that you shouldn't bring in, then of course you may have a problem.
If you have residency in Belize, then to go to Mexico, you just get your passport stamped and then you go across. There could be no line or it could it be 20 or more people if a bus just pulled up. But I don't think I've had waited over 20 minutes on the Belize side, ever. Then you cross over to a brand new bridge and it takes you over to the Mexican side, where they built a whole new immigration area. There you will fill out the normal paperwork you would do if you were coming into Mexico from anywhere else. Then it gets stamped and you are given 180 days' visit. The Belize side tends to have a longer line because they tend to only have one person in the window when I'm there, so I have waited there as long as 30 minutes as the workers from the Free Zone were crossing at the same time. Sometimes, I've waited 5 minutes or sometimes not at all.

Within Corozal is Consejo Shores, which was developed by Mr. Bill Wildman. I refer to him as "Wild Bill" because the guy came over to Belize over 50 years ago and he definitely has the right attitude. He is around and we wish him well all the time. I just played in a golf tournament up there but it's not much of a golf course. Consejo Shores is a large expat community next to a village called Consejo Village. Most expats live in Consejo Shores rather than living in Consejo Village. There is a lot of development planned for that area. Numerous projects have come and gone and never did anything. I know there is another proposing a golf course again, but I remain skeptical, as I cannot remember how many times I have heard it..

Right when you cross the border into Belize, you pass an area called Four Mile Lagoon, and there are some expats living in that area. Personally, I'm not a big fan lagoons, they are pretty to look at but I am not one to swim in one. I prefer to be on the open sea and enjoy the breeze. And then, of course, there is the Cerros area, which is up and coming. Not only Cerros Sands where I am living, but our neighbor Orchid Bay which is heavily promoted. Unfortunately, their prices are 3 times what we are selling properties for at Cerros Sands.

There is another area, too which some expats are going, the Sarteneja fishing village, which is the furthest tip on the coast of Belize in the Corozal District on the east side. It is northwest of Ambergris Caye. The Progresso Area is home to more expats and does have a nice lagoon there.

(All pictures are of Cerros Sands. From top: Blackbeard's Beach, home being built, and our first greenhouse.)
Posted June 01, 2015