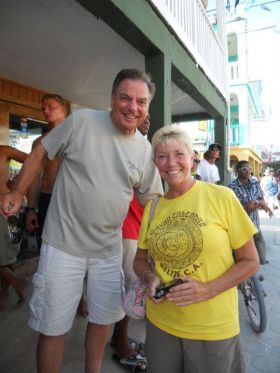 The island of Ambergris Caye is the most popular spot for tourists in the whole country of Belize, by far. About 70% of the tourists who come to Belize come to visit this island. There is also a large retiree population in Ambergris Caye, but the country of Belize has lots of expats, too. San Pedro (which is the main town on the island of Ambergris Caye) is by far the most affluent and the most popular destination in Belize, and Ambergris Caye tends to be the most popular for tourists and for expats.
In the country of Belize, however, there are expat communities in every town.
From my experience, expats generally congregate around good works. We have the Rotaries. We have a strong contingent of teachers and former teachers who like to tutor or offer enrichment classes. It is not just the bars, by any stretch. Personally, as an expat myself, I don't go to the bars; I'm not interested in the bars. It is just not my cup of tea. I would rather be at community rallies for national holidays or causes, like Red Cross and AIDs,, etc. In Belize there are so many reasons to get out of your little space and participate in the community. Participating in any way in the community activity is fun, too. Some people just participate and some send their dollars.
There are also other opportunities to get together with other expats, like taking a class in an adult sailing school, which I think is really cool because you will learn from the various sailing coaches. Then on another lovely afternoon, you are meeting other expats and doing something fun together.
Expats also meet in Belize in all the various restaurants and bars. You can sit down and probably not know the person next to you very well, but you have probably have seen each other around, so you have some commonality, like a news event or a particular issue.
Politics is always a hot topic; even local politics. It is hysterical here in Belize because people do not really get too deep into politics here, yet their opinions are readily available.
All the little towns across Belize, I believe have similar opportunities; most definitely. There is always a Rotary, and the church generally has community meetings. (We have a very large Catholic society here.) Some expats go out and volunteer with the animal Humane Society. They come together and walk the stray dogs, which is a lovely, lovely effort. Some work with the polyclinic (local healthcare facility) and that is the way these expats spend extra time with other expats. Some people just hang around their pool. Everybody is different.
We live in a little condominium down the beach in Ambergris Caye about five minutes south of the resort that has exactly that. The people there are homeowners and long-term tenants. We have Thanksgiving around the pool together and it's just lovely. It is informal, it is casual, and strangers quickly become friends.
Posted December 02, 2014