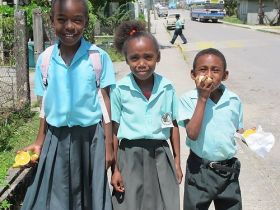 I wouldn't say that there is racial tension in Belize. Belize is a melting pot. There are lots of ethnic groups, such as Asians, including Chinese, Taiwanese, and Koreans. There are Mennonites of German background. There are Hispanics from Central America who moved to Belize. You'll find people from Guatemala, Honduras, El Salvador and Nicaragua. There are people referred to as "Creole," who are Belizean Blacks. There are Europeans and North Americans, specifically Canadians and Americans. It's just a melting pot and there are no issues, as far as I can see.
People intermarry between these different groups. I have Belizean friends who married Asians. My sister is married to a Mennonite. I've seen Hispanics marry Blacks and Blacks marry North Americans.
The Chinese haven't been in Belize very long. The Taiwanese and Koreans have been here longer. The Taiwanese and the Koreans set up their community many years ago and they kept to themselves. Over the years, that has changed. They have moved to different areas in Belize. Now, Chinese are everywhere and they have no problems living with other ethnic groups. Many Chinese are in business. They set up shops, stores, grocery stores, gas stations and hardware stores. They also do not make exceptions and sell to everybody.
Meanwhile, the Mennonites keep to themselves in their Mennonite village. They have several communities as well. My sister married a Mennonite and has moved into the Mennonite community. A female outsider is allowed to move into a Mennonite community, but a male outsider is not allowed to go into a Mennonite community. If a female Mennonite married an outsider, she would have to leave.
Posted March 01, 2015