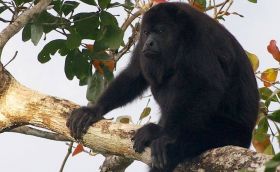 Retiring in Belize is not for everybody because there are some people who wouldn't be used to it. We don't have the major highways where you get the traffic congestion. Here there are two roads and there are basically the roads that the tourists travel on and there are the roads that the villagers travel on, so you can take either path.
It's very beautiful in Belize. Of course, there is humidity here. Some people love the warmth. They get away from the cold weather from where they came from, and here in Belize, the weather is year round very tropical, and we love it.
Most of the country of Belize is either on the water or It's very close to the water so most people can live very close to the water and get the nice tropical breezes. The people are very friendly here. The food is all natural food. We don't really eat canned goods.
So typically when you arrive here you're looking at the beautiful jungles and you hear all the animals. You can hear the monkeys singing in the trees; the howler monkeys are very loud. The birds wake you up every morning maybe around 5AM, which is when the birds are outside your window and start chirping.
(Pictured: Howler Monkey in a tree in Belize.)
Posted October 21, 2015