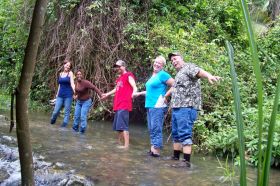 Your typical neighbors in Belize would depend on where you live. If you are in Placencia, you would have American neighbors and you might not have a local person live next to you because most of the locals live in the small village just before where the peninsula starts.
In Corozal, your neighbors could either be British or American.
In Belize City, you could have a Belizean as your neighbor and the same is true in Cayo. But there are a lot of Americans and Europeans living in the Cayo District as well, especially in San Ignacio. We have mixed communities here in Belize. I do not know of any community where only expats live. Even Consejo Shores has a mix of different nationalities.
(Saira Mahabir with expat friends in Punta Gorda, Belize, pictured.)
Posted September 23, 2015