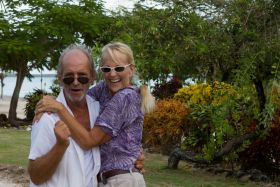 Expats are mostly treated well here in Belize. Everyone pretty much respects each other here. There are certainly some people who are not as nice to other people but it is just fine.
In general, people who treat others with a lot of respect also get a lot of respect in return in Belize. Belizeans are very nice, sweet people who want to learn and are eager to work. They are learning now that expats usually provide more jobs. The government lets the expats come here and if they start a business and hire Belizeans they pretty much let you do whatever you want.
I haven't really found any resentment towards expats here in Belize between the haves and the have nots. My wife is Belizean and I met her here. I am accepted into her family without a problem. They are great people and we have a lot of fun together.
(Attendees at a home builders workshop, Orchid Bay, near Corozal, Belize, pictured.)
Posted March 14, 2017