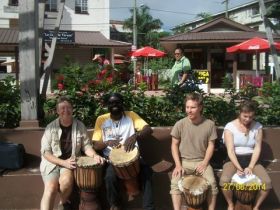 For the most part, expats in Belize are treated by the people in Belize the way they also treat the locals.
Here's an example of what not to do. We had some people who we helped relocate to Belize and they were very Type A personalities; very out there, pushy and aggressive. They wanted everything to be done now.
I wanted to tell them, "Take a deep breath."
They went to Immigration to get a stamp on their passport and they were frustrated that there was a line, and they were outspoken about it. They weren't nice. So when they got up to the counter, a little sign went up at the window that said, "Gone for 15 minutes."
They were really mad because they took all this time in line. The guy behind the counter was essentially communicating, "I don't want to deal with them," so he left for 15 minutes.
If you go to Belize and you are nice to people, you acknowledge them, and treat them with respect, they will treat you the same way. So remember, wherever you move to, you bring yourself with you… so bring the right person with you!
Posted January 30, 2015