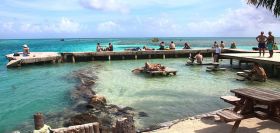 If somebody wants to live and retire on an island in Belize, the best would be Caye Caulker (pictured at left). If somebody wanted to live inland, the best would be San Ignacio. These are very popular areas for different reasons.
Caye Caulker is a good-sized island with lots of stores, gift shops, apartments and condos. It has a landing strip and is about an hour from Belize City. It's more laid-back, more easy going, more friendly and less congested than the town of San Pedro on Ambergris Caye. San Pedro is "party-central." Everybody goes there to party and drink a lot and have fun. In Caye Caulker, you can take a 30 or 40 minute boat ride and experience the best fishing and best diving because you are in a great spot. For sand and sun and sea lovers, I would definitely say that Caye Caulker is the best place to live and retire in Belize.
San Pedro is on the island of Ambergris Caye and Caye Caulker is on a separate island. Caye Caulker is between Belize City and Ambergris Caye. San Pedro is the main town on the island of Ambergris Caye, which is the biggest island. For somebody that's visiting San Pedro and Ambergris Caye by boat and taking the water taxi from Belize City, they would probably make a stop at Caye Caulker and get to see what it's like there. They won't set a foot on Caye Caulker, but at least they get to see it from the water.
There are lots of expats in San Pedro, but from my personal experience, it's too congested. For a retiree who wants to live in Belize long term, Caye Caulker would be the better option. San Pedro would be just for vacation.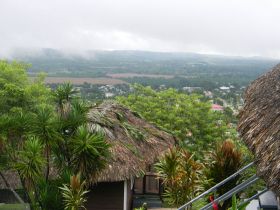 If you choose to live and retire in San Ignacio, you will find it nice, laid-back and easy going. There are surrounding villages, such as Cristo Rey, Bullet Tree and Santa Familia that are very popular expat destinations. Expats who want to immerse themselves in the community, prefer these areas. People who love nature, the rolling hills, the rivers, the creeks, the caves and the Mayan ruins live and retire in San Ignacio for these reasons. On the other hand, people who are in vacation mode or looking for vacation homes, they will probably be into Placencia. Older people who are retired and want to live in a Belize for a few months would probably be in Corozal, particularly because they are so close to Mexico. There are larger stores in Mexico and it is an easy boat ride or drive away.
The people who come into San Ignacio are the ones who want to get involved in the community, want to help the women and children, want to start a small business, whether it be in construction or a restaurant or hotel. People who move to San Ignacio or around San Ignacio live there long term and they really enjoy it.
Cristo Rey is a village that is three and a half miles away from San Ignacio. It is also a popular expat destination. Bullet Tree is another town and is named after a natural rock-solid tree. There are lots of expats in Cristo Rey and Bullet Tree, as well as Santa Familia, which means "Holy Family." Santa Familia is relatively close to San Ignacio. It is about five miles away and there are lots of expats.
You will find Mayan families in Cristo Rey and Bullet Tree. They are great locations because they're close to town and you can buy a couple to five acres at inexpensive prices. These are villages that are on the river, which is very desirable for expats. For an expat to have a couple of acres by the river is a huge deal. Cristo Rey is by the Macal River and Bullet Tree and Santa Familia are side by side and on the Mopan River. Property on the river sells out fast because this is significantly less expensive than property on the Coast or on the Cayes.
Posted February 25, 2015