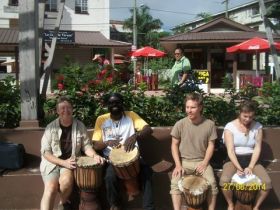 The best reason to retire to Belize and the number one key factor is that Belize is an English-speaking country. If English is a language that you have mastered, you can immediately move yourself to Belize and immerse yourself, and become one with the country because we all speak the same language.
A lot of retirees just want to come to a country where they speak the language and where they can learn new things. The language allows you have a real relationship with the local community.
That is a key factor of why it is best to retire to Belize.
Another reason why I believe Belize is an exceptional place to retire is because of the cost of living. As an example, I was speaking to a client of ours today who is moving to Belize. Her whole reason for moving is that she is a retired nurse from Alaska and she said she cannot afford to be retired in Alaska. She sees that the cost of living in Belize is a complete fit for her. It makes a lot of sense.
We see a lot of retirees here in Belize who saved their money and lost a lot when there was a crash. Their house is underwater and they just need to be able to go somewhere where they can retire without needing to learn a new language.
The other reason why Belize is a good place to retire is if you are from the US, Belize is only a 2-hour flight to Houston, Texas or to Miami, Florida. Once you are in one of those places, it is easy to get to anywhere in the US or Canada.
Posted January 28, 2015