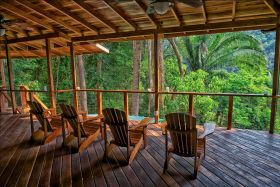 Having lived in Belize for 30 years and having traveled the world in the RAF (Royal Air Force) for 25 years before that, I'm probably in a very unique position to answer the question, "Why Retire in Belize".
Belize is one of the top choices for expats looking to re-locate to a different lifestyle in a warm and friendly country with a much cheaper cost of living - and without all of those stupid and annoying rules and regulations governing every aspect of your life.
Here are some of the reasons why -
Belize is the only English-speaking country in Central and South America. No need to learn another language.
Bordered by Mexico to the north, Guatemala to the west and south and the Caribbean Sea to the east, Belize is located only 1 hour 40 minutes from Miami and has daily flights to many American cities.
Belize is sub-tropical and enjoys warm, sunny days with an average year-round temperature of 77°F (25°C). No heating bills or heavy clothing.
A member of the British Commonwealth and a stable, independent country with a democratic parliamentary government elected by the citizens.
The very mixed population of only 330,000 allows all of the different cultures to blend in successfully with no racial discrimination. Friendly people who welcome foreigners.
Belize has a very attractive Retired Person's Incentive Programme to allow free importation of personal items and an exemption from any taxes on income from a source outside of Belize. There are no capital gains or inheritance taxes in Belize.
Located on the Caribbean Sea, Belize is home to the world's second largest barrier reef. It is a divers', snorkelers' and anglers' paradise and has many beautiful off-shore cayes (islands). Belize is one of the world's number one tourism locations.
Belize has the highest standard of living in Central America.
The local currency is the Belize Dollar which has been fixed at BZ$2 = US$1 since 1976. The US dollar can be used anywhere.
There is no such thing as a price for a foreigner and a price for Belizeans, and foreigners buying property in Belize are afforded the same rights as Belizeans regarding ownership. The title you receive will be a full freehold, fee simple title, unlike some other countries where you are not allowed full ownership.
Belize has tough anti-squatting laws unlike some other Central American countries.
I have been living in the San Ignacio area of the Cayo District for 30 years and I have never been robbed, burgled, assaulted, etc. I do not carry a gun and my property is not completely fenced.
There are many expats living in Cayo but, unlike some areas of the country, they are spread out and not all bunched-up. My social activities invariably involve a mixture of locals and expats.
The Cayo District is not on the sea but, in my opinion, is by far the best part of the country in which to live. It is much cheaper than the heavy tourist areas but, Belize being a very small country, nowhere is more than an hour or so from the ocean.
Cayo is the bread basket of Belize and the soil is great for gardening and for fruit trees, etc., unlike the sandy soil on the coast and cayes.
(Home featured in House Hunters International, Belize, pictured.)
Posted April 19, 2017