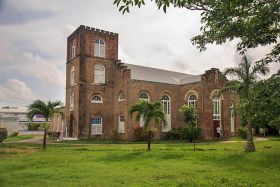 All of the churches in Belize are English speaking. Belize is an English speaking country.

They do have Spanish masses but they always offer English-speaking masses as well

There is an Anglican church, a Roman Catholic church, Church of Jesus Christ of Latter-Day Saints. I do not believe there is a synagogue in Ambergris Caye, but there's probably one on the mainland though, and there's a mosque on the mainland as well.
Posted December 02, 2014