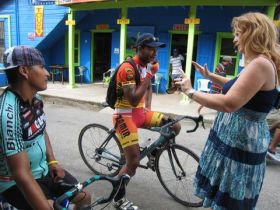 For me, personally, being a mother moving to Belize, I was very pleased to find out that Belize was a community that was accepting of me as an expat. I never left the US for any other reason than I just wanted something different, which included a change of cultural experience for my children. I can say that that was an incredibly wise decision. My kids have benefited from seeing other cultures and how they live.
Belize is so diverse, we are talking about many different cultures: from the Mayans, to the Mestizos, the Spanish, the Belizeans, the Garifuna, the Creole, etc. There is everything here in Belize.
Living in Belize is like living in a global world, but with a very small town feeling. That is what the whole country feels like.
(Macarena Rose in San Ignacio in the Cayo district of Belize talking to bicyclist downtown, pictured.)
Posted January 28, 2015