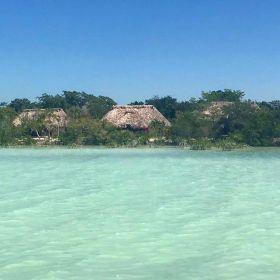 Belize is very different than the US. I personally love it because it's a tropical paradise. It is always warm; it's beautiful.
The US has taught its people to become very dependent on things. Everything is so easy in the US. It's so easy to shop at one store and get everything you need. Moving to Belize is sometimes frustrating for expats because they are not used to what it's like here. Moving to Belize is more of like how it was a long time ago in the US when our parents and grandparents had to buy from the farms and buy the meat from the butcher shop, buy eggs from the egg man, etc.
That is kind of how we live here in Belize. Some people enjoy it and some people get frustrated by it. I enjoy it. I think it is how the world is supposed to be. We're not supposed to get strawberries every day of the year. The US has kind of created this falseness of how the world should be. It created this perfect world but it's not real. Here in Belize, we only eat food that is available when it is available. We don't import stuff just to have them on the shelves.
Everything moves a lot slower here in Belize. It is hard to get used to the fact that we are so bred to be on time and to hurry and make an appointment. That is not the culture here in Belize at all. Things go wrong here. People leave when they are ready. If they are late, who cares? It is not a real on demand place. Moving to Belize is healthier for our minds. We were raised to be such machines in the US and worry and hurry but I think stepping back and realizing that, I see Belizeans are all happy. You will see people here who are really poor but they are just happy. It says something about their culture.
(Orchid Bay, Belize, pictured.)
Posted March 10, 2017