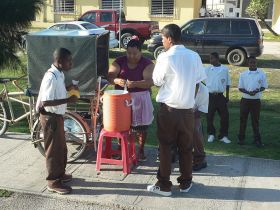 They have a British-based school system here in Belize so it is based on standards and forms as opposed to grades. They are quite significant here. The kids who graduate from the schools, especially the primary schools, have a very high level of aptitude and comprehension. From what I understand, the primary school system is very good.
In Ambergris Caye, you have the option of a public school or a private school. Even the private schools are absolutely gorgeous. There is a big private school called the Island Academy. The church funds the public schools. There is an Anglican school and a Roman Catholic school, which are free for the kids. The parents do not have to pay for the books or for the food because I believe there's a program at all the schools for breakfasts and lunches. From my understanding, they are all very well run.
The high school is quite an issue for people because there is only one high school in Ambergris Caye. It is not particularly great. Without a rival high school, there is no team spirit. The teams do not have anyone to play and no one to compete against. That rivalry is what was so much fun in high school. That bonding experience for the teens attending whichever school does not exist in Belize. From my understanding, many parents send their kids to high school on the mainland. In Belize City, there are several high schools from which they can choose. Often the local people send their teenagers to go live with their relatives in Belize while their teenagers attend high school there. The expats tend to bring their kids back to North America from what I have seen, or one of the parents will move back to North America with the teenager.
The elementary schools in Ambergris Caye here are all church-run. There is an Adventist primary school, there is a Roman Catholic school, and an Anglican school. There is no government-run school. The churches fund the primary schools that are free and the private schools are out of pocket. There is no "San Pedro Primary School" that is government run. There is nothing like that.
The schools here in Belize are bursting. There are something like 500 kids, but the schools are meant for only about 350 kids. So the need is there, but they don't refuse children, which something that I really like. Some Guatemalans and Hondurans live here because this is the only place somebody can get any work and the kids are accepted into schools. Even though some of them are here illegally, the children should not be punished, and the children should be educated.
Posted December 02, 2014