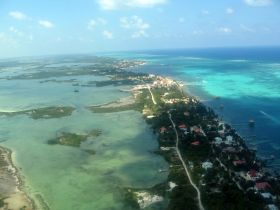 The Internet in Belize is better than ever. When it is good, it's good but it is not 100% reliable and things could go wrong.
A lot of the Internet setup here in Belize are radio so it is wireless from point to point. Sometimes the power goes out in certain places where we don't know and that makes the Internet connection go down. However, the Internet connection here in Belize is getting better and we are getting more and more connected. It is pretty much the same throughout the country because everything is wireless. Even San Pedro (on Ambergris Caye) and Caye Caulker also struggle with reliable Internet.
There are a few different companies that offer Internet service here. We pay around US $50 a month for internet service here. We get unlimited usage with around 5 megabytes of speed when it is working well. Ambergris Caye is trying to run cables under the sea so they can have Fiber Optic Internet but it hasn't been completed yet.
(Ambergris Cay, Belize, pictured.)
Posted April 29, 2017