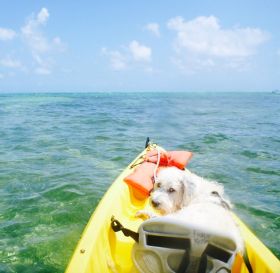 There are good veterinarians in Belize. There is not only good vet care for your animals but there are boarding opportunities too. I was back in Canada for two weeks for my vacation so I set my dog up at Pampered Paws. They took care of him for two weeks and I came home to a happy, healthy dog. Definitely pet care exists in Belize.
There are also free a clinic for people who can't afford to pay for pet care. They have spay and neutering and they treat for basic things such as fever and flea infestation. There is also a private veterinarian.
On the mainland, there are quite a few vets, too. There are veterinarians in Belize City and other main areas. My dog had an incident a year ago with a pit bull. The pit bull tried to attack him and it was right over the Christmas holiday, so the vets here were not in operation, which was very unfortunate. I had to fly my dog and myself to Belize City. I chartered a plane, put us on it, and when I got to the city, the vet took excellent care of him, stitched him back together, and sent us home. That was an expensive day, but that is my four-legged child, so I had to do it.
Sadly Belize has stray dogs, too. Unfortunately, that is just part of Third World life. However, Belize has a pound. Because of the generous donations of the animal lovers out there, they'll take in the animals and they will try to foster them and care for them in the meantime. We have that kind of civilized mentality around animals here and in Belize especially in San Pedro the main town on Ambergris Caye. Throughout the country of Belize, there is a Humane Society effort in which we get a lot of volunteer veterinarians that come through, who come down to have a spay and neuter campaign. The kids go home and they bring their puppies back with a proper leash and some flea medication. Sometimes you will come across a dog with a clothesline wire as a collar. The dog grows, the collar doesn't, and he collar grows into the dog etc. So some of it is education, some of it is resources but a lot of it is just good will.
Posted December 02, 2014