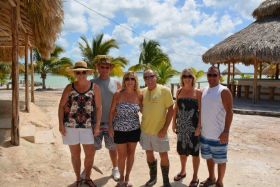 Private health insurance in Belize is available; however since public hospitals do not charge, not many folks carry it. International coverage is available. Belize has the same system as The British Commonwealth as before independence, Belize was British Honduras. If you go to a public hospital, even as an expat, or as a visitor to the country, you will be treated. The level of care, is a little bit more of an issue. You may give a little something for your prescription that will be given to you at the hospital and its only a couple of bucks.
What I do is to maintain a major medical policy in the US, but I am looking at International policies that conform to Obamacare.  I had cancer a long time ago and it was taken care of. I maintain major medical insurance just in case something comes up and I want to be treated in the US. With Obamacare my policy went up by US $300 a month to $800 a month.
In Belize, there are private doctors. You will pay maybe $15 to $20 for a visit and whatever your prescription costs.
I use the Hospitals in Belize and and a private doctor in Corozal.
Many Canadian citizens are also coming to Belize. They are allowed to travel to Belize for 7 months of the year and have to go back for 5 months to maintain their health insurance. Many have found that as they look at the economics of a full relocation, they can buy their own personal major medical policy and not return to Canada.
(In the picture are healthy and happy expats in Cerros Sands, Corozol.)
Posted May 28, 2015