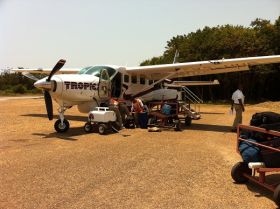 The best strategy for health insurance for retiring in Belize is you should purchase your coverage in the US that has air ambulance coverage attached to it. Most of the time that insurance will work to take you to Mexico or Guatemala, and those areas are as good as the US and they're fairly nearby.
They have hospitals in these places that are up to US standards, and Belize also has transportation to these areas about an hour away. There's transportation by air to Guatemala, Cancun or Merida, and to Mexico City. It's about an hour away where you can get medical attention. Some people go to these areas for a more reasonable cost. Tropic Air Belize goes there every day.
Retirees, especially over 60 or 70 years of age, need to keep their doctors in the United States or wherever they're from, and try to make an annual visit just in case. Even if they don't have a major problem, it is a good idea just to keep in touch with your home country doctors because we always want to get a second opinion.
Medical insurance can be bought locally and it can be an international policy that will cover you in Belize and take you abroad.
We have group policies that are much cheaper than personal policies; but it's used for employees of a business only. Group policies could run you about BZ $ 300 (US $150).
Posted August 09, 2015