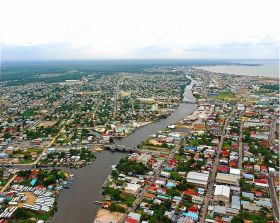 Off the top of my head, I can't name a particular doctor practicing in Belize who is trained in a United States medical school, though I am sure there are some here. That being said, there are no medical schools in Belize so all the doctors in this country have studied abroad. There are some very fine institutions in England, Jamaica, Guatemala, Canada, and globally. So while I can't specify a particular doctor in this country that went to a United States medical school, I am sure if you dug a little bit deeper, you could locate them as well as some other fine doctors and surgeons that have studied, not only in the United States, but in other fine medical institutions across the region and across the globe.
The quality of medical care in Belize is very high. There are several private hospitals here in Belize City where I have sought medical treatment myself. I have never felt that the medical service I received in Belize over the years has been sub-par compared to what I was used to in my youth in the United States. Several of the doctors who provided care to me in Belize were highly decorated and had expensive training, education, and experience, for example, a doctor when I had stitches. I also had a surgeon that had studied and had practiced for many years in Mexico City who probably gave me the best service I have ever had in my life. There was no scar whatsoever.
There is a very high level of health care available here in Belize. There are some very good doctors. In fact, there are some great doctors in this country and I don't think that one would be hard-pressed to find the medical care that you need, certainly here in Belize City and perhaps in the districts as well. Of course, the best hospitals and the best care is located in the biggest city, which is Belize City, where I am located.
(Belize River through Belize City, Belize, pictured.)
Posted November 04, 2015