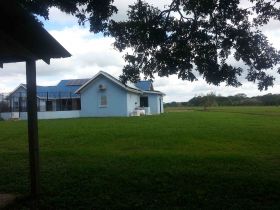 Belize is an amazing place for a prepper or a survivalist for several reasons:
If they are coming from North America and they speak English, it is very easy to immerse yourself into the community immediately.
We have such easy access to food at all times. Food grows everywhere here in Belize. They grow in the backyards, the parks, etc. We have many plants and trees for which you do not even need a green thumb. You just plant them in the ground and the plant grows. Sustenance is all around us here in Belize. Especially inland, there is an abundance of rivers, so you always have a water source, and you always have food. Those are the major things for sustenance.
Many preppers consider the ability to barter ability to be important, in the event they do not have cash on hand. If you are in the Cayo District, for example, and you have cows and you want to get some equipment for your farm, there are things that you can barter with people without necessarily doing it on a cash only basis.
In Belize, you can absolutely live off the grid, which a lot of preppers are looking for. The reason is because we have a water source. If you want to use it as a source for electric generation, or if you want to have a solar source, we have an abundance of solar here in Belize. Solar is very good in Belize because we have so many days of sun. You don't get the cold and the gray skies here in Belize.

Some people also use wind generation.

Belize is a good place because the country has nice weather all year round. We do not have freezing cold rains or winters or snow. You do not have to plan for that. You can actually live in Belize

completely

without air-conditioning; you do not need it. Some people want to air-condition a bedroom or two, but it is not necessary. You do not have to worry that your food source is going to be frozen.
(Pictured above is an off the gird home in Belize.)
Posted January 27, 2015