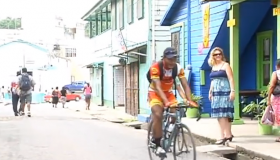 I believe that Belize is safe for people who come with common sense. Lock your doors, know your neighbors, and live in areas where you know the community and you have actually taken the time to get to know the people.
Many people, I understand, when they come to Belize, think that it is just like coming to North America where you have a security system, but it is different here in Belize. Your security system here is basically your neighbors keeping an eye out for you. Security is yourself making sure that you pay people in a form of check and not cash, and becoming part of a community in a way that you talk to people; where you aren't always seen as a foreigner. Those are viable things to consider ahead of time.
Because a lot of the highways here in Belize do not necessarily have lighting on them, we take that into consideration, so if we are going to be traveling, we try not to be on the roads at night. We do this is not necessarily because of crimes, but rather it is just about being safe all around. Wherever you are going to be, you try your best to be there before it is too dark.
I came from St. Petersburg, Florida and whenever I am there and you turn on the news, it is frightening to see and hear all of these things that are happening every single day. When you are in Belize and something happens, the difference is that since Belize is a small country, you end up knowing the families and people involved, so people come together and gather, whereas when you see crimes in the news, it is almost as though it is an inundation of just negativity and crime and things that are happening. It is just a whole different culture. You feel most distanced from it in the US, and yet you are inundated with crime. Also, in Belize, you are more part of the community, so when something happens, people gather and get together, so it is very different.
I feel very safe in the Cayo District. (Downtown San Ignacio, Cayo District pictured.) I walk the streets at night with friends; we go to restaurants downtown, we go out to places where people have resorts, and we go to our friends' homes, since there are
lots of people who live in beautiful places in the jungle. I do feel safe here.
When I moved here twelve years ago as a single woman with two teenagers and ten animals, of course, my first concern was how safe it was. I was really pleased to realize that the advice that people give me was actually very good – become part of the community, don't stand out like a foreigner, become one of the community. That was great advice because I didn't move to Belize to not become part of Belize.
Posted January 27, 2015