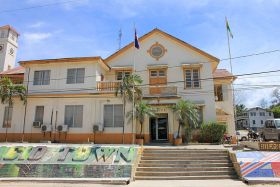 The effect of illegal drug traffic in Belize is not something that the common person will ever see. It is something more that the police are involved in. Because Belize is such a small country, we don't see a lot of activity. Drug traffic is usually stuff that is going past us; not through us. (San Ignacio, Belize police station, pictured.)
Thankfully, we do not have drug shoot-outs in Belize. There are intermittent things that happen in different areas of Belize. But because it is such a small country, the whole country of Belize is like Mayberry RFD, where everybody knows what is going on.
We used to have "The Coconut Telegraph," which now it has been replaced with Facebook. We call it "Fastbook" because we can put something on it when you see something that is not right. People are alerted and people pay attention.
There are areas of Belize City that have more drug issues than elsewhere in the country. Belize City is where a lot of the people who are predominantly involved in the government, such as ministers, lawyers and businessmen live. When expats move to Belize,many do so to retire or to raise families so they are looking to be in the inland districts or out in the islands. Belize City is just not the point of reference of a place where people want to move.
Posted January 27, 2015