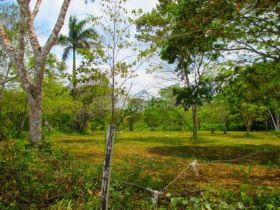 The cost of living in Belize is two-fold. If you live on the island, it is more expensive because things need to be brought over by boat. In contrast, living inland is much less expensive. This is the reason why when people look at Belize as a country to move to, they look at the cost of living as an important factor in deciding where they will live.
If you are going to buy twelve limes in San Ignacio, which is in the Cayo District, you might pay US $1, while on the islands, you will pay $2.50. Districts are similar to provinces or counties, which North Americans are more used to. The Cayo District is the most western district of the country of Belize, and is inland; it is not on the ocean.
Everywhere on the mainland is so lush and green that you can grow things very easily. If you are down at the southern part of Belize, everything grows very well down there, since they get a lot of rain, so you will not have any issues getting fresh fruits and vegetables. The same goes with just north of that area.
When you go inland in the
Cayo
District, that is where the farming is done for the whole country, so you can get to these things quite easily. (A lot in the Cayo district, pictured above.)
If you are going to rent a property and you want to rent a home inland, you can find a home for $300 to $800 per month. If you are on the mainland and closer to the ocean, to rent a home will cost around $1,000. When you get to the island of Ambergris Caye, the rentals will start at $1,000 and will go upwards. If you want a very nice place to rent with two bedrooms and two bathrooms in San Pedro (the town on Ambergris Caye), you will pay around $1,500 a month.
If you are on the mainland and inland, you will be able to purchase a house with two bedrooms and two bathrooms on a regular home-sized lot for $100,000, for example. For the same type of house on the mainland, but on the ocean front or near the ocean, you will pay about $250,000 to $350,000. If you go out to the island, it is going to be very difficult to find a home that is anywhere near $350,000, so expect to pay more around the $400,000 to $500,000 range.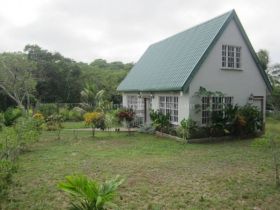 (House in San Ignacio, Belize, pictured to right.)
Many times it is understood that Belize is an island, where in fact, we have islands, and yet we are a mainland country which is part of Central America and just below Mexico. We have several islands in Belize, too. Ambergris Caye is one of the main islands, located just outside of the Belize City area. It is the biggest island and everyone knows Ambergris Caye because people go there to go snorkeling, diving, etc. The other island that is just a little bit south of Ambergris Caye, is Caye Caulker. Caye Caulker is like a small bohemian island, while Ambergris Caye has more hustle and bustle with more restaurants and things to do.
Placencia is both on mainland and near the ocean. When we were shooting our House Hunters International TV show in Placencia, it was difficult to find homes for rent for anything under $1,200 a month. The home that they chose for the family featured on the show was $5,000 a month. It is not a low-cost place. (House on Maya Beach, near Placencia, pictured.)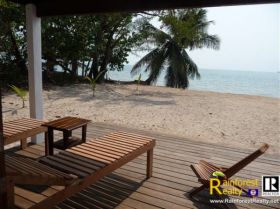 These are really key things to consider.
Posted January 27, 2015