Clothing tends to be pretty expensive in Belize because they don't have a big textile industry. Belize lost their manufacturing to some of the poor surrounding countries that have a larger population like Guatemala or Honduras. Manufacturing in Belize was gutted about ten years ago. All the clothing that they have now in Belize is generally handmade, be it tapestry or a dyed sarong.
If you are buying store-bought clothes, you will have to buy imported clothes. They print t-shirts locally, but when they buy the actual t-shirts without the printing, I would expect that they import them from China. Food and clothing in Belize is not cheap.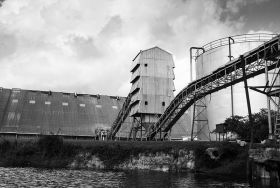 If you like rum, you are going to be able to enjoy alcohol at a reduced price because rum drinks are relatively inexpensive. Sugarcane is one of Belize's crops (sugarcane plant, pictured. If you like vodka or red wine, you pay so much more than what you would pay back in the States because these items are imported and the duty tax is high.
Posted December 03, 2014